Get Long Luscious Locks With Garlic Treatment
Hair fall is a natural process but it should be under control. And to keep it under control, you can try many things like massage, shampoo and nutritional supplements. But nothing works on hair fall like garlic cloves.
Here're three ways of using garlic for strong and healthy hair
Onion and garlic juice
Blend 2 pieces of onions with 4-5 garlic cloves to get the nutrients that strengthen hair follicles and prevent hair loss. Message your scalp with the oil and leave the juice in your hair for at least 10 minutes so that the locks soak the ingredients. Finally, you can wash the oil from hair with shampoo.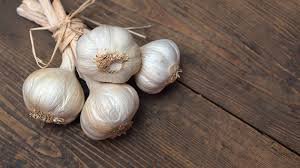 Garlic honey mask
Garlic cloves contain selenium that produces vitamin E and this very vitamin is very crucial for growth and repair of hair follicles. It prevents hair fall and supports regrowth of fallen hair strands. Honey is good for its moisturizing and conditioning properties. Blend 8 garlic cloves with 2 tablespoon of honey and wear the paste like a mask over your head for 20 minutes and then wash the paste. Repeat the procedure twice a week for better results.
Garlic coconut oil
Pamper yourself with garlic coconut oil to nourish your hair with necessary ingredients. This therapy will rid you of dandruff and boost strength of your hair follicle. Crush 5-6 cloves of garlic in coconut oil and do a gentle massage of your hair and scalp with this oil. Leave it in your hair for a couple of minutes before washing your hair with a mild shampoo.