Khamoshi Movie Review
Khamoshi: Tamannaah Plays A Deaf-Mute Woman In The Movie
Khamoshi is a dark horror thriller based on supernatural events. Remake of a 2016 American movie Hush, the movie stars Prabhu Deva and Tamannaah. The movie is said to have many surprises for the audience.
Story 
The story revolves around a deaf and dumb girl Surbhi played by Tamannaah and a strange character played by Prabhu Deva. His is a negative role in the movie and it is probably the first time when Prabhu Deva is playing a negative character in a Hindi movie. The film started in 2014 and surprisingly the shoot was complete in less than a month but it took a long time to see light of the day. Some inside reports give hints of producer Vashu Bhagnani being unsatisfied by the shooting and insisting on reshoot of the movie. But he finally gave his consent to release the movie.
Highlights of the movie 
It's a female centric movie
The female protagonist is made especially abled
Superstar Prabhu Deva is playing the antagonist
The story revolves around the supernatural powers
Khamoshi First Look & Poster 
The poster features both the lead actors – Tamannaah and Prabhu Deva. It shows Tamannaah taking shelter behind Prabhu Deva who looks confident and daring. There is flashlight in the backdrop and they are witnessing a supernatural event. The name of the movie in bold letter is colored red and placed on the bottom.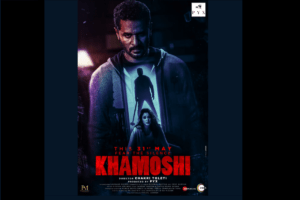 Why watch the movie? 
There are two big reasons given for watching the movie. First is the remake of a popular American movie and second is the characters – a deaf-mute woman and a powerful antagonist.
Trivia:
Seems no trivia available for the movie