LOREAL PARIS EXTRAORDINARY CLAY CONDITIONER REVIEW
Loreal has previously launched various hair care products under the brand name of Loreal Paris. I have previously used shampoos and conditioner of Loreal Paris and have seen satisfactory results. Loreal Paris Extraordinary Clay Shampoo and Conditioner were launched in abroad and gained positive results. Now, they are launching it in India under the product name of Loreal Paris Extraordinary Clay Shampoo and Conditioner. I came across this product through TV advertisement and thought of giving it a try. Though I was not sure of the results, so instead of purchasing the combo, I chose to buy only the conditioner.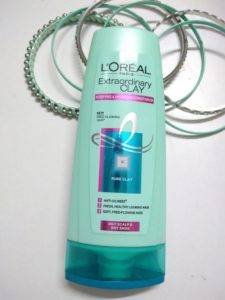 Things that you would like to know about the product
Loreal claims to provide nourishment and healthy hairs for 72 hours after using the combination of Loreal Paris Extraordinary Clay Shampoo and Conditioner. It also comes with a clay-based hair refresher for after use and clay-based hair mask too.
The presence of clay claims to hold for the moisture for the longest of time and prevents hair loss due to the harmful effects of pollution outside. It not only hydrates but also purifies the hairs to prevent oiliness and stickiness. It is prepared specially to treat oily scalps and dry strands.
Key ingredients of Loreal Paris Extraordinary Clay Conditioner are –
Aqua or Water, Behentrimonium Chloride, Cetearyl Alcohol, Eucalyptus Globulus Leaf Oil, Parfum for Fragrance, Cetyl Esters, Glycerin, Isopropyl Alcohol, Phenoxyethanol, Salicylic Acid, Trideceth – 6, Limonene, Benzyl Alcohol, Chlorhexidine di-gluconate, Benzyl Salicylate, Citric Acid, Montmorillonite, Citronellol, Argilla / Magnesium Aluminum Silicate, Kaolin, Menthol, Geraniol, Linalool and Sodium Hyaluronate.
(The details of all the ingredients are described on the product's label)
Maximum Retail Price (MRP) –
For 65 mL pack – INR 85
For 175 mL pack – INR 185
Durability – Works well up to 36 months from the date of manufacture
Other Details –
Works well with sensitive skin too
Contains no natural, vegan or organic ingredients.
Directions for usage – Take a coin size amount of conditioner on your palm. Gently massage it over your hairs from top to tip. Do not apply it over the scalp. Leave it for a minute or two. Rinse it off thoroughly with water.
For maximum results, use it along with the Loreal Paris Extraordinary Clay Shampoo or follow the complete Extraordinary Clay hair care ritual.
Color – It is milky white in color.
Texture – It has a soft creamy texture with a thick consistency, which makes it easier to spread over the hair lengths.
Fragrance – It smells fresh as it has menthol and Parfum for fragrance. The smell has a hint of clay. It stays for longer than other conditioners and is strong.
Packaging – It is same as all the Loreal Paris Conditioners made up of plastic with an attached flip cap. The container is turquoise in color. It looks very attractive. All the required details are clearly mentioned on the labels.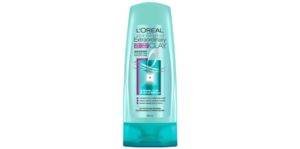 My personal experience with the product –
I am very happy with this product. It proves what it claims. The conditioner smells fresh and does not fade even after the wash.
A coin-size sample of this product spreads completely in my hairs. It also reduced my hair fall in the first wash.
It does not weigh down the hairs and instead makes them look lighter, smooth and frizz free. It stays on for long and the results can be seen from the first use.
I would definitely recommend it to everyone. This is one of the best product to have.
Pros –
Provides fresh and lighter hairs.
Purifies and hydrates hairs
Also works well with streaked hairs
The smell is amazing
Cons –
Not sure about the claim of healthy looking hair for 72 hours but it does last longer than other conditioners.
Ratings – 4.5/5