Phoebe Dynevor
Born: Phoebe Dynevor was born on 17 April 1995 (Great Manchester, England)
Occupation: Actress
Years Active: 2006-present
Achievements: MTV Movie + TV Awards 2021 (Nominee), Satellite Awards 2021 (Nominee), Screen Actors Guild Awards 2021 (Nominee)
Phoebe Dynevor inherited acting from her family. Her father Tim Dynevor was a screenwriter and her mother Sally Dynevor was a well-known actress. Also, her parental grandparents worked in the television industry.
She started her acting career at the age of 14 with the fifth series of Waterloo Road. Later she appeared in British dramas including Monroe and The Musketeers. But she received wide recognition for the role of Daphne Bridgerton in the Netflix period drama Bridgerton. She even received Screen Actors Guild Award nomination for Outstanding Performance for Bridgerton.
The Netflix star works hard to maintain her slender figure. She played the role of a teen in Bridgerton and the viewers praised her role. Phoebe Dynevor fit into the shoes of Daphne, the fourth Bridgerton child, and eldest daughter.
The Netflix series increased her popularity. She has over 3.6 million followers on Instagram and increasing. And everyone wants to know about her fitness secret. Her fans want to know how she kept her fitness even during the lockdown period.
Here's everything about her diet and exercise
She Works Out In The Morning
Phoebe Dynevor usually remains silent about her workout routine but in a video, to Vogue, she said that she gets up early and loves exercising in the morning. She said that she didn't wash her face in the morning without doing her workout. And it is her daily routine.
Every morning, she gets up and starts exercising and splashes cold water on her face only after completing her exercises. It gives her the energy to keep going all day. Also, it keeps her mind free from stress.
She Loves Walking More Than Anything Else
Walking is her favorite outdoor activity. She was once photographed in sportswear while taking a stroll in nature. Sometimes she takes her dog for a long walk and sometimes she asks her actress mother to give her the company. And sometimes she walks alone because she loves walking more than anything else.
She says she walks every day as it is good for her mental health. Also, she does meditation and she has a therapist. She revealed to Harper's Bazaar magazine that there were things she did to ground herself because it was quite hectic at that moment.
She Loves Cycling As Well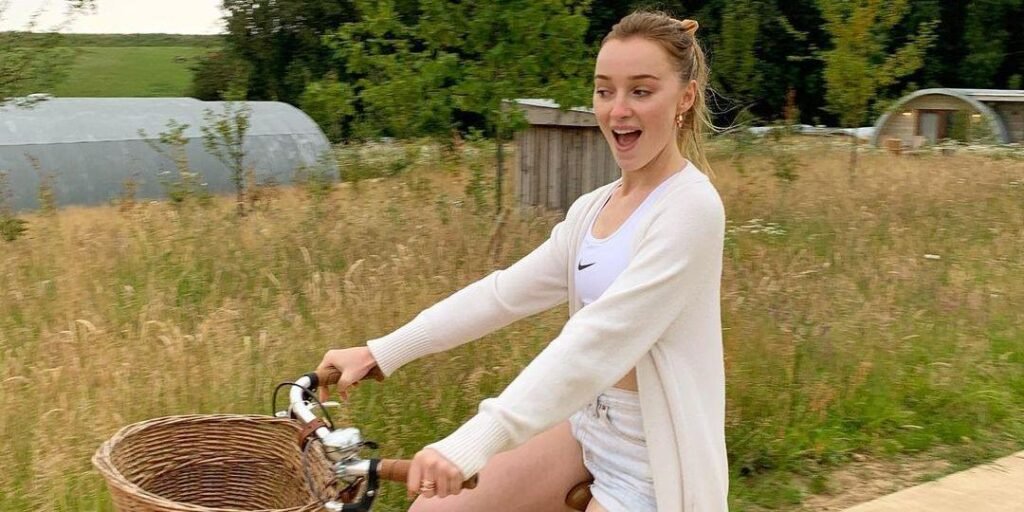 Her fans want to know what she does when she isn't working. And her answer is a surprise to all. She does cycling whenever she has free time. And the reason given for cycling is to cut emissions and to get going. She chooses cycling over walking because cycling fills her body and mind with positive energy.
With cycling, Phoebe Dynevor wants to give a message to the world. She wants to tell that cycling can only cut emissions. She wants to encourage others to ride cycles instead of bikes and cars. Cycling helps her explore the outdoors.
She Meditates To Remain Stress-Free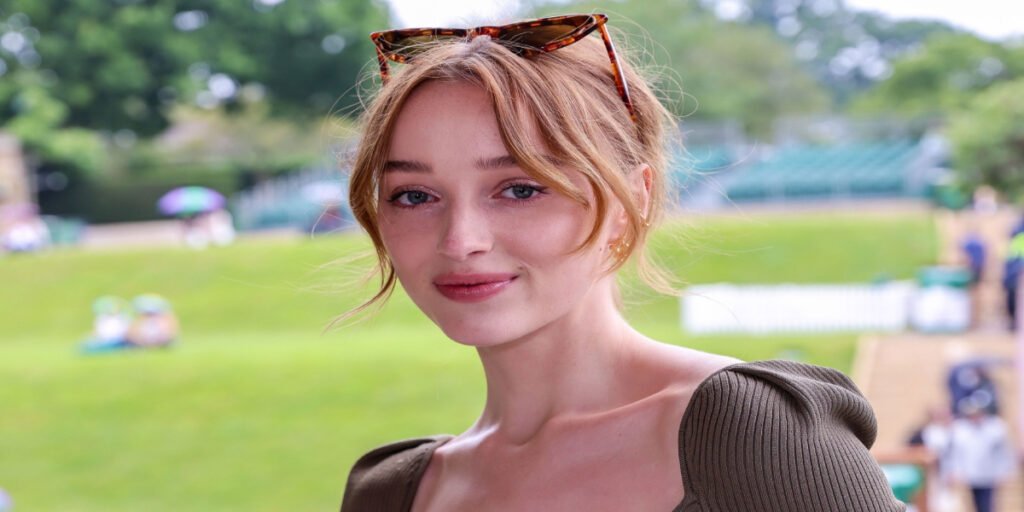 Phoebe Dynevor spends time doing meditation and she practices Transcendental Meditation (TM) which involves meditation by repeating mantras. Started by Maharishi Mahesh Yogi, TM was made popular by The Beatles. She even praised TM with an Instagram post where she called 2020 chaotic. She further said that she learned through TM that beneath the chaos laid a state of pure consciousness.
While many people take TM as a useful tool, some former adherents accused it of cultic dynamics. But others deny these allegations. Undeterred by allegations, Phoebe Dynevor has a firm belief in TM and she practices this specific form of meditation.
She Stays Active On Holiday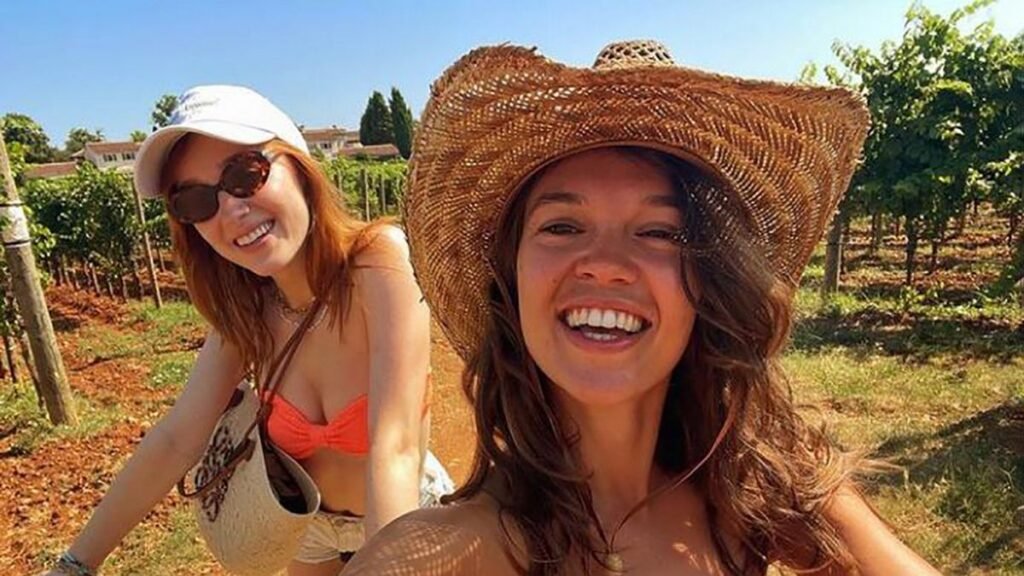 Phoebe Dynevor leads an active life and this is evident from her exercise routine. She keeps busy and active even when she's is holidaying. On one such occasion, she was seen talking to the slopes every once in a while with her Bridgerton co-star Sabrina Bartlett in Croatia.
She Experiments With Her Work Outs
Phoebe Dynevor loves workouts so much that she doesn't hesitate in experimenting with different types and tempos. Mixing workouts keep her spirits high by preventing things from becoming boring. She once told Glamour that in an intense bootcamp she did the wild workout that she wasn't sure she was cut out for.
But you shouldn't try mixing workouts without consulting your personal trainer. It isn't advisable as it could be harmful to your body. Know more about mixing workouts before making any opinion on it.
She Prioritizes Sleep
In an interview with Harper's Bazaar, she said that sleep was definitely the best self-care ritual, especially with night shoots and early call times. Sleep gives people the power they need to give their 100% and if they fail, they can say with pride that they tried their best.
Sleep is her priority but she has made it an everyday routine. And she takes ample sleep to keep her body and mind energized. She also advises her fans to take care of their sleep.
She Prefers Vegan Meals
Phoebe Dynevor proudly says that she's totally vegan and how much she likes her plant-based diet. But it doesn't mean that she doesn't eat eggs and chicken. If you go through her complete diet, you will find that she takes a mixed diet but she's mostly vegan.
Breakfast: Eggs, Turkey bacon, juice
Lunch: Chicken, asparagus or kale, salad
Dinner: Salmon or steak, veggies, salad
Also, she drinks plenty of water to stay hydrated and keeps her body free of toxic wastes. She's extra glowing skin and the secret behind her glowing skin is drinking plenty of water.
Phoebe Dynevor follows a disciplined life. She wakes up early in the morning and starts her day with exercises. She loves walking and cycling. She does cycling to cut emissions. And her diet mostly consists of plant-based items. She has kept her life simple and affordable to remain stress-free and healthy.
For more information please visit our site at https://www.reviewmentor.com/