Weekends are the days when we all want to enjoy harder. Well, weekends are not only about eating your favorite food and enjoying with friends, but it also helps in pampering your skin and body. However, there are many dangerous factors available in city life especially from the pollution, that's why caring about skin is essential.
On this note, we have talked with Skin expert, Plabita Sharma and she says weekends are the best way to pamper and rejuvenate skin. It is a perfect time to restore skin vitality and influence the collagen to support skin health and glow.
Many people think having good skin is only because of good DNA, but it is not a matter of concern. Your daily habits and skin regime can help to restore your natural complexion. So, how you can do this?
In this, we will show you the best beauty regime that you should follow every weekend and enjoy the best and gorgeous skin forever.
Special Note- Follow the beauty tips every weekend and I am sure you will love this. If you are thinking, this is just a one-step remedy, then you're wrong. Be consistent and feel the real changes.
1. Take Hot Bath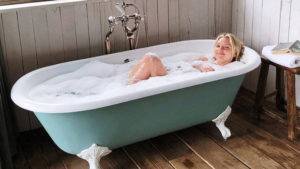 To relax your muscles it is vital to have a hot bath once in a week. Moreover, the hot bath is best for the immune system and protecting … Read the rest