The Nature's Co Mandarin Sugar Body Scrub Review
The Nature's Co. is one of the top leading brands that deals in providing cosmetics and personal care products. Amongst the various nature-based products available in their product range, this article covers the review of The Nature's Co. Mandarin Sugar Body Scrub. I have recently discovered this amazing product in the market and have been using this body scrub. I can feel my skin so fresh and glowing. This sugar-based body scrub will make you go awe with its effects. I personally feel that sugar scrubs are the best.
Things that you would like to know about this product
Being a brown sugar based body scrub, this product is completely safe for usage. Body scrubs are an essential in the present times. It not only removes the dead skin but also exfoliates, cleanses and rejuvenates your skin from within.
The best feature about this product is the combination of Mandarin oil and brown sugar, which helps in stimulating the growth of new cells and removes stretch marks and scars.
Key ingredients of The Nature's Co. Mandarin Sugar Body Scrub are-
Brown Sugar. It acts as a natural exfoliator.
Mandarin oil. Helps in growth of new cells. Get rid of the scars and stretch marks and provide a smoother, softer skin.
Sunflower oil.
Lemon oil. It leaves your skin fresh and glowing.
Vitamin E
Price – Rs. 1695 (for 200 mL or 6.7 Oz.). A bit overprices but value for money.
Direction for usage – Use it once or twice in a week. Take the scrub in your palm and spread it over your body by gently massaging into the skin. Exfoliate your skin and then rinse it with cold water.
Fragrance – Subtle and refreshing fragrance of Mandarin oil and Lemon oil. The smell is very refreshing and energizes the skin.
Appearance – It is brown in color due to the presence of brown sugar.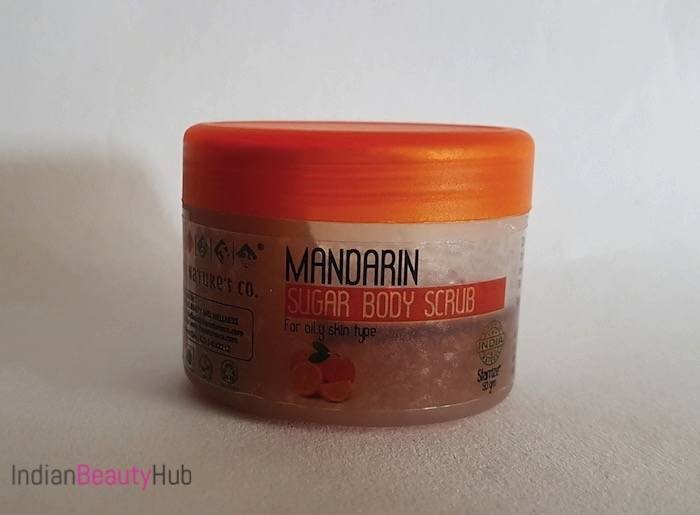 Texture – It is slightly thick in texture and not so fluid, which makes it handy to use. The sugar granules gives a slight rough texture.
Packaging – It comes in a plastic opaque white tub with an orange cap. The aluminum foil covers the scrub in a new pack. All the details are provided on tub. Though it shows 'For oily skin type' but suits perfectly for other skin types too.
My personal experience –
I have been using this product from few weeks and can feel my skin getting softer and glowing. I felt immediate results of this body scrub on the first use itself. After using multiple chemical products for scrubbing, I would like to stick to this product forever. But I avoid overuse of it by using it thrice in a week – twice a week on my hands and once a week on legs. This way it can last longer. It not only helps in getting rid of the dry flaky skin but it's also a massage alternative for my skin.
The body scrub should be used immediately after applying on the skin, as the sugar granules being larger can melt away faster. The sugar granules does not feel hard on skin.
Pros –
Larger and softer sugar granules.
Completely natural ingredients.
Deep exfoliator.
Provides radiant and smoother skin.
Fresh and energizing fragrance.
Cons –
Overpriced according to the volume.
The Nature's Co. Mandarin Sugar Body Scrub is available online and offline.
Rating – 4.5/5