What Brings People To Lotus Temple?
The Lotus Temple in New Delhi is known more for its architecture than as a place of worship. And this place one of the most visited buildings in the world according to a 2001 CNN report. Few people know that it belongs to the Bahá'í Faith but they visit the building out of curiosity.
Worship
The Bahá'í Faith teaches that this place of worship is open for people of religions and faiths. Everyone irrespective of his/her religious beliefs, sex or other distinctions could enter the building and connect to his/her inner self. There are sacred writings inscribed on the inner walls of the temple and these writings belong to every faith.
Structure
Inspired by the Bahá'í Houses of Worship in Delhi or Lotus Temple follows the architectural character stipulated by ʻAbdu'l-Bahá, the son of the founder of the religion. He suggested a house of worship with a nine-sided circular shape. While all places of worship of this faith have domes but it isn't an essential part of the architecture. Also, the faith states that no pictures, statues or images of any faith will be placed in the house of worship.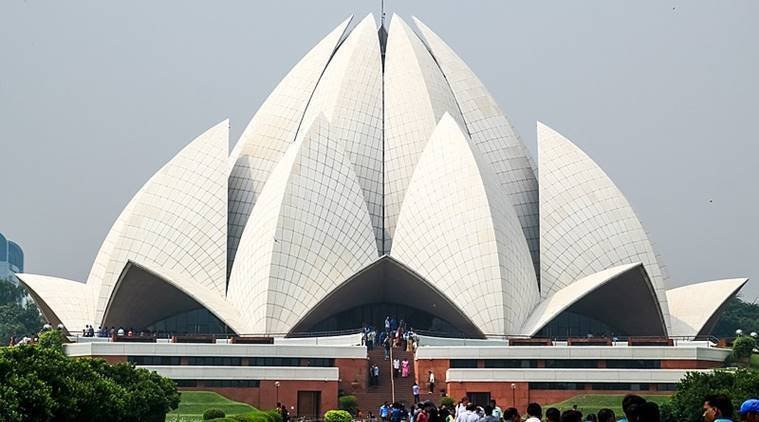 Lotus Temple
Inspired by the Lotus flower, the design features 27-free standing marble-clad petals. But these 27 structures are arranged in a cluster of three structures to make a total of nine structures as stipulated by the son of the founder of the religion. The temple has nine doors opening onto a central hall that is 34.3 meters tall and that can seat 1,300 people and accommodate a total of 2,500 people.
Awards
• In 1987, the architect of the Lotus Temple, Fariborz Sahba, was awarded for excellence by the UK-based Institution of Structural Engineers.
• In 1994, Encyclopædia Britannica recognized the architecture if its "Architecture" section.
• In 2000, the Lotus Temple was awarded with GlobArt Academy 2000 award.