Which Shoes To Buy For Jumping Rope Exercise?
Jump rope is the right exercise for burning calories, but you need perfect shoes for jumping. It is a high-intensity exercise that can impact your knees and feet but you can protect your knees and feet with the help of the right shoes.
It makes sense to invest in a good pair of shoes that can support your movements while you practice jump rope and other high-intensity exercises. Good thing is that there are many brands that you can explore.
Here're 10 best shoes for jump rope exercise
New Balance Women's FuelCore Nergize V1 Sneaker
It will be a snug fit on your feet and you will love the incredibly lightweight cushioning this footwear delivers. It features a sleek design that is 100% synthetic and ultra-comfortable. The bootie upper construction and NB memory sole will give your feet a snug supportive fit. It is an easy slip-on women's trainer is the right choice for activities that exert pressure on knees like jumping rope. But it might not be durable.
PUMA Women's Tazon Cross-Trainer Shoe
It is a stylish sneaker with a streamlined silhouette and a sleek design. Its leather upper comes with a midfoot saddle for maximum fit and comfort. And its Eva heels provide cushion feet and knees from impact like you get during jump rope exercise. Made of leather and synthetic, they are extremely lightweight, breathable, and durable. Also, they are available in exciting colors. But their sole isn't flexible.
Nike Women's Competition Running Shoes
Their serrated rubber sole provides them the flexibility needed for exercises like running and CrossFit training. The mid-arch design of the shoes provides added support and generates the propel needed to walk, jump, and run. And these lightweight shoes feel ultra-comfortable on the feet. Their breathable upper and textured outsole ensures a firm grip. But they could hurt your heels.
Reebok Women's Cross Trainers
Their lightweight material makes them durable. They have resilient stretch and support and their re-engineered Flexweave technology provides the stability and flexibility during exercising. Also, they have Toe Tection technology that provides comfort during high-intensity workouts. But its biggest feature is the low-cut design that increases ankle mobility. And their rubber soles and the new heel bootie design ensures added cushioning during high-performance exercises. But they aren't suitable for running.
NOBULL Women's Training Shoes
These shoes are lightweight, breathable, and durable. They come with SuperFabric guard plates and pack a highly flexible mesh base layer to give a 360-degree shield. Their outsole lug pattern design allows multi-environment usage including sunny and rainy days. They get added protection on the sidewalls with high carbon lateral and medial guards. Also, you will get comfortable stability on all kinds of surfaces with its medial grip. They have a functional design but they aren't durable.
Inov-8 Women's Sneakers
They provide a balanced and connected movement during indoor workouts. Their forefoot space can comfortably accommodate your toes. They are so comfy that you will feel like exercising barefoot and natural. And their zero-lift function will provide you the solid base you need for weightlifting. You will be able to jump rope and do other exercises with the help of its non-slip grip. These shoes are simply perfect for everyday wear and outdoors. But the brand offers no standard size chart for these shoes.
RYKA Women's Tenacity Cross-Trainer Shoes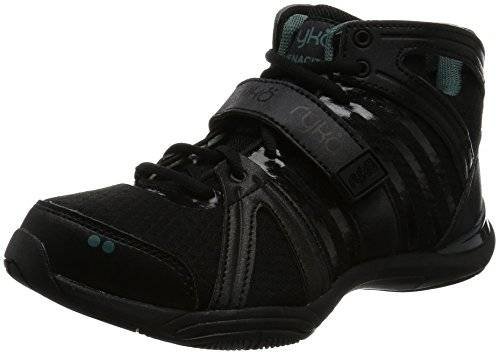 These are low-profile shoes with an n-gage Eva foam that provides added comfort at the forefoot. They feature breathable mesh material on the upper part and they have a midfoot strap to give a perfect snug. They are lightweight and provide added foot support needed for jump rope exercises. And the only drawback of these shoes is their shoelaces could be too short. But never mind as you can change those shoelaces with lengthy laces.
Inov-8 215 Cross-Trainer Shoes
Superior comfort, stability, power, and lateral support are some of the advantages of these shoes. They are highly responsive and flexible and give a natural feel. With these shoes, you will get the solid support you need for high impact, strength, and agile workouts. These are the shoes that will go with your movements including fast, hard, lateral, and medial. They come with elastic mesh liners that hug feet like gloves and provide added comfort and support. Perfect for any type of exercising, they come in exciting color options. But people with wide feet might not find them comfortable.
ASICS Women's Gel-Fit Cross-Trainer Shoes
They feature seamless material that keeps users free from the trouble caused by traditional stitches and seams. They have Rearfoot GEL Cushioning System to absorb shocks that high-intensity activities give. Also, they come with elastic sleeves to provide a snug fit to the users. Their midsole has a crisscross pattern that maximizes the natural motion of feet. Made with a rubber sole and 100% synthetic material, these shoes can elevate your performance. And they have no drawback.
Under Armour Women's Reflective Running Shoes
They feature perforated upper fabric with ultrasonic seaming. Their dual-layer midsole comes with Charged Cushioning and Micro G foam. Also, they have anatomical outsole. These features reduce the impact of high-intensive exercises on knees and feet. With these shoes, you will get added cushioning, moisture-wicking, and seamless comfort while you do your workout. The natural feel and durability these shoes offer are hard to find in other shoes. And they have no drawback.
How to choose shoes for high-intensity exercises?
Shoes with serrated rubber are simply the best for jump rope exercising. This sole provides the flexibility that you need to propel your body up and down. Also, you should consider cushioning that will provide added support to your feet. Weight is another important factor to consider while choosing shoes.
Foot space is also a concern as it will accommodate your feet for comfort. The shoes must fit perfectly in your feet and pocket. Also, you should choose the color and design you are comfortable with.
Disclaimer: Consider your comfort, luxury, and budget while choosing shoes for exercising. Also, keep your medical needs in mind while choosing exercising shoes.