Google Doodle of 12th August 2019 was special for two reasons – 100th Birthday of Vikram Sarabhai and launch of Chandrayaan2 Spacecraft.
The Doodle design
It has an image of young Dr. Vikram Sarabhai looking at the space. In the image, he looks bigger than the space emerging above the clouds. Also, there is moon below the image and the Chandrayaan2 Spacecraft on the right of the image. The Doodle is painted black-and-blue to make it look like space.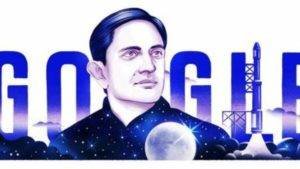 Vikram Sarabhai
Instrumental in establishing Indian Space Research Organization (ISRO), Vikram Sarabhai is considered the father of India's space programme. Born on 12th August 1919, Google with India celebrated birth centenary of Vikram Sarabhai.
Personal life
Vikram Sarabhai belongs to Sarabhai family that was an industrialist family committed to the Indian independence movement. Sarabhai dedicated his life to the development of science and this is evident from his achievements.
Professional life
After completing his education in Cambridge in 1947, Vikram Sarabhai returned to India with to establish the Physical Research Laboratory (PRL). The institution had a modest beginning at the residence of Vikram Sarabhai but it became the cradle of space research institutions in India.
Started with the help of charitable institutions including M.G. Science Institute, Ahmedabad and Karmkshetra Educational Foundation, PRL focused its research on cosmic rays and the properties of the upper atmosphere. Later the PRL researched theoretical physics and radio physics with the help Atomic Energy Commission.
Sarabhai led the family-owned business but his interests vary from science to statistics and sports. He set up following research institutes to pursue his interests.
• Operation Research Group (ORG) that became the first market research organization in the country
• Nehru Foundation for Development in … Read the rest