As we all know, Kareena Kapoor is the style icon of Bollywood and everyone wants to follow her style. Since her Bollywood debut, her fashion statement is always evolving in the whole industry. From her Western to Indian look she rocks the stage on fire and looks mesmerizing.
Now, recently Kareena slaying in the Hand painted pure Italian organza powder blue Saree where her Name ' Bebo' is painted.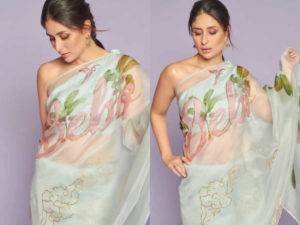 Kareena Kapoor new look Captured!
We saw her this look recently while she promoting her new upcoming film ' Good News' in the set of Kapil Sharma Show with leading actor Akshay Kumar and also Punjabi popular Celebrity Diljit Dosanjh and Kabir Singh Girl Kiara Advani. When the Pataudi Begum flouts her Saree in stage no one can take their eyes off.
Yes, she looks extraordinary Hot and sizzling in the Saree with featured her Nickname ' Bebo' painted in pink. It is a powder blue color Saree specially made for Kareena by picchika Jaipur based labem by Urvashi Sethi in which Golden flowers are hand-painted with pink bird and green-brown leaves.
Kareena Kapoor new look styled By Rhea kapoor
She styled by Rhea Kapoor, Sonam Kapoor's Sister and she Amaze her look with Sunita Kapoor's designed accessories who is Sonam and Rhea's mother. She Wore Golden Bloom earrings which give her the perfect with Saree. Kareena Kapoor's smokey eye makeup … Read the rest