Disha Patani's Workout & Lip-Smacking Diet Plan
Disha Patani is well above 20 but still looks younger and it won't be an exaggeration to say that she is the fittest actress in Bollywood today. Her critics even say that Disha Patani is more popular for her fitness regime and toned body.
The above statement is proved from her Instagram profile that has a massive following of around 46.1 million and this number is growing with each passing day. And a look at her Insta pictures gives the real reason behind her popularity. Her critics are right to say that she is more a youth icon. Youth love seeing Disha Patani in beach dresses, crop tops, bodycon dresses, and other stylish apparel.
Disha Patani's movie career
Disha kicked off her acting career with a 2015 Telugu movie, Loafer. In 2016, she appeared in a music video, Befikra along with Tiger Shroff. But her first commercial break was the biography of M.S. Dhoni. Neeraj Pandey signed Disha Patani for the biographical thriller M.S. Dhoni: The Untold Story with Sushant Singh Rajput and Kiara Advani.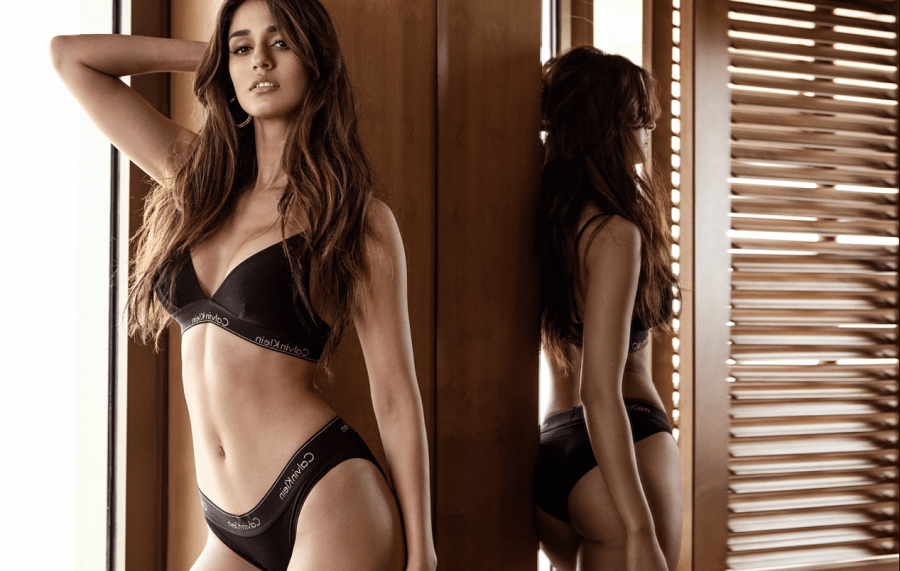 Disha Patani surprised everyone including her critics with her acting in M.S. Dhoni: The Untold Story. Also, she received many awards and accolades for the movie. She BIG Star Entertainment Awards, Star Screen Awards, Stardust Awards, and International Indian Film Academy Awards for her role.
Disha Patani also did a Chinese movie Kung Fu Yoga with Jackie Chan and Sonu Sood. Also, she was seen in Tiger Shroff starrer, Baghi 2. She also played a crucial role against Salman Khan in Bharat.
Now the million-dollar question is how does Disha Patani manage to get into different characters….
And the answer is her youthful appearance. She is young from inside as well as outside. Disha Patani works hard to maintain her youth. According to sources, she works out twice a day. While others could find it difficult to do exercises twice a day, Disha knows how to make things interesting.
Disha Patani's Workout Plan
She starts her workout with cardio exercises like dancing, kickboxing, and gymnastics. It is her morning fitness regimen and she spends a good time doing these exercises.
Advantages of cardio exercises:
Cardio is a great exercise to cut down the extra fat clinging to your back. It is quite helpful for those looking for weight loss.
Cardio exercises are good for the heart. The activities boost the heart function that helps in the proper distribution of oxygenated blood in the body.
Cardio activity is an energy booster. It will keep you energized all day. It increases the production of endorphins that keeps the energy level high.
Cardio exercises improve mental health. They keep the body and mind de-stressed. These activities prevent the development of anxiety and depression.
In the evening Disha Patani does weight training. While some people might disagree with Disha that weight lifting is good for women, but Disha has a reason for weight training.
Disha Patani says that weight training has nothing to do about gender. According to her, it is all about working on the body and becoming fit.
Advantages of weight training for women:
Weight lifting builds lean muscle that boosts body metabolism that in turn speeds up the rate of weight loss
Weight training enhances mood and reduces stress
It gives strength without increasing the size. Women can develop muscle tone without increasing the size of their muscles or looking muscular
Weight lifting reduces the risk of injuries. And it is what keeps Disha Patani doing action and adventurous movies
It improves athletic performance as Disha Patani has proved in different characters
Disha Patani's Diet Plan
Her diet is as interesting as her workout plan. And she loves food as well. She loves exercising and she is a foodie as well. But she is quite conscious about eating as she doesn't want to compromise her health.
Breakfast: Disha takes eggs for breakfast. She eats 2-3 eggs daily with juice or milk. But sometimes she switches to cereal and milk.
Lunch: Fresh fruits and juices
Dinner: In differ, she prefers food high in protein like chicken, brown rice, eggs, and dal.
Snacks: In mid-day, when Disha gets hunger pangs, she consumes almonds and peanuts to get energy and suppress her appetite.
Disha Patani leads a balanced life that includes a nutritious diet and exercising. But she is a foodie and she can't live without eating cheat meals. So, she plans her cheat days on which she pampers her taste buds. After all, life is for enjoyment and she wants to enjoy every moment of it.
Disha Patani's Cheat Day
According to Disha Patani, food is her weakness but she knows how to make it her strength. Born with a sweet tooth, Disha looks for excuses to have some sweets at least once a week. And she calls it a cheat day on which she allows her to enjoy her choice of meals. Rest of the week, she works out to burn the calories consumed.
Disha Patani has to work hard to maintain a balance between life and work. She lives a hectic life that involves traveling but she never misses her workout or compromises with her diet. Her Instagram pictures show that she has maintained a good shape despite having a busy life.
Role Model
Disha Patani is a role model for many. She has proved that anyone can achieve a good figure with hard work. Also, that one needs not abstain from food, if she can burn the calories consumed. Disha works hard all week except on her Cheat Day in which she enjoys desserts.
So, wherefrom she gets the energy to keep going….
Disha Patani is always working. She works out twice a day, follows a strict diet, and keeps busy with different projects. But she also takes proper rest and stays hydrated. And above all, she always thinks positively and remains happy in every situation. If you want to get a body like Disha Patani, you should also step into her shoes.