Top 10 Women Entrepreneurs With Celebrity Status
Women can work in every field including banking & finance, beauty, medical, and tractor, and farm equipment. And their work is recognized by organizations like Forbes and some of them were even awarded Padma Shri. Many businesswomen in India are doing a great job. Their life has become an inspiration for many others.
Here're 10 businesswomen that left their mark in the business world with their academic qualification and work experience.
Kiran Mazumdar Shaw
Birth: 23 March 1953, Bangalore, Karnataka, India
Occupation: Founder & Chairperson of Biocon
Kiran Mazumdar Shaw wanted to go to a medical school but went to Ballarat College, Melbourne University in Australia to study fermentation science instead. At that time, she was the only woman enrolled in that course. Also, she topped in the class. Later she earned many accolades including the Othmer Gold Medal (2014). Forbes listed her as 68th most powerful woman in the world and she was named EY World Entrepreneur Of The Year 2020.
Chanda Kochhar
Birth: 17 November 1961, Jodhpur, Rajasthan, India
Occupation: Former MD & CEO, ICICI Bank
Chanda Kochhar had to step down from her position in ICIC Bank due to government regulations but it doesn't undermine her efforts and accolades she received while working for the bank. It is under her leadership that ICICI Bank won the "Best Retail Bank in India" award in 2001-03-04-05. Also, it was only due to her efforts that the bank won the "Excellence in Retail Banking Award" in 2002. Also, Forbes included her in the "World's 100 Most Powerful Women" list at 20th position.
Shahnaz Husain
Birth: 12 December 1968, Supaul, Bihar, India
Occupation: Founder, Chairperson & MD of The Shahnaz Hussain Group
Shahnaz Hussain has carved a name in the highly competitive beauty industry by offering a wide range of therapeutic products for skin and hair care. Today she's over 400 franchise ventures across the globe. Also, her efforts were recognized by awards that include Padma Shri in 2006. She even walked the red carpet at the Cannes Film Festival and was invited to speak at the House of Lords and House of Commons in the British Parliament.
Naina Lal Kidwai
Birth: 1957, New Delhi, India
Occupation: Banker, Chartered Accountant
Naina Lal Kidwai worked with many banks including ANZ Gindlays from where she started her career, Standard Chartered Bank where she's Chief Manager of Retail Bank, and HSBC where she's a Group General Manager and the Country Head. She's also President of the FICCI. Her awards and accolades including Padma Shri for excellence in trade and industry. Presently she's Chairman of Max Hospital Services Ltd. Also, she's an independent director of Nayara Energy Limited.
Vinita Bali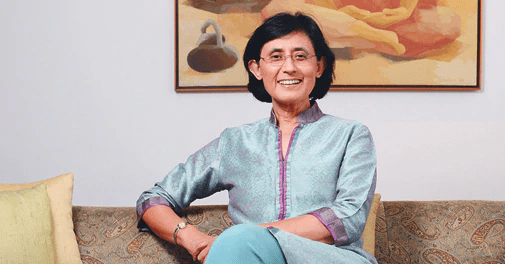 Birth: 11 November 1955, Bengaluru, Karnataka, India
Occupation: MD of Britannia
Vinita Bali started her career with Voltas where she was instrumental in the launch of their soft drink product, Rasna. Later, she went to Cadbury as India Brand Manager. At that time, she's the youngest General Manager of the company. She continued to work for global businesses until 2005 when she joined Britannia as MD & CEO and more than quadrupled their revenue due to her acumen and experience.
Swati Piramal
Birth: 28 March 1956, Mumbai, Maharashtra, India
Occupation: Vice Chairperson of Piramal Enterprises Ltd.
Dr. Swati Piramal made improving the lives of people diagnosed with chronic medical problems her career and launched public awareness campaigns against chronic ailments like polio, malaria, epilepsy, tuberculosis, and osteoporosis. And her philanthropic work was recognized by the government of India by awarding her Padma Shri in 2012. In business, she made her company a diversified business group with a presence in almost every country.
Ayesha Thapar
Daughter of Vikram Thapar, Ayesha Thapar belongs to the Thapar family, one of the biggest corporate houses in India. Ayesha Thapar was born with a silver spoon but she made her mark on her family business based on her knowledge. She got involved in the real estate arm of her family business after completing her graduation in economics from Wellesley College in Boston. Also, she started an NGO, Nimaya, to work for women's empowerment.
Shikha Sharma
Birth: 19 November 1958, India
Occupation: Banker
Shikha Sharma went to study physics at the Lady Shri Ram College (LSR) in Delhi but was offered economics instead. And LSR was right in offering economics to Shikha Sharma who went on to do an MBA from IIM Ahmedabad and then to become MD & CEO of Axis Bank in 2009 and the bank's stock gained over 90% under her leadership. She made the bank the "Bank of the Year in India". Also, the Institute of Company Secretaries of India (ICSI) awarded the bank the "Certificate of Recognition for excellence in Corporate Governance" in 2015. Considering her contribution to the growth and expansion of Axis Bank, Forbes included her in List of Asia's 50 Power Business Women 2012. Shikha Sharma took retirement from Axis Bank on 31 December 2018.
Ekta Kapoor
Birth: 7 June 1975, Mumbai, Maharashtra, India
Occupation: Television Producer
She started assisting feature filmmaker Kailash Surendranath early at the age of 15 and went on to become a producer. She made over 130 Indian soap operas under her company Balaji Telefilms Limited. She changed the face of Indian TV serials with her content that broke all TRP records. The success of her television serials made her the "Television Queen". Ekta Kapoor won many awards including Padma Shri in 2019.
Mallika Srinivasan
Birth: 19 November 1959, Chennai, Tamil Nadu, India
Occupation: Industrialist
gA topper throughout her career, Mallika Srinivasan was a gold-medalist and economics major in the University of Madras and one of the 125 most successful alumni in Wharton School of Business, University of Pennsylvania. Later she joined Tractors and Farm Equipment Limited (TAFE) as Chairman & Managing Director and made it a billion-dollar company. She's also active in the development of education and healthcare by supporting different organizations. Forbes awarded her by making her one of Asia's 50 Power Businesswomen.