Red Fort of Agra has been declared a UNESCO World Heritage Site in 1983. It is a gorgeous 16th-century Mughal monument situated approximately 2.5 km northwest of the Taj Mahal. It features forbidding exteriors and encompasses an imperial city of the Mughal rulers.
History of Red Fort of Agra
Construction of the fort started in 1565 by Akbar but he could build only the initial structures. Most of the fort is designed in Shah Jahan era. Grandson of Akbar, Shah Jahan added most marble creations to the architecture. It is a crescent shaped fort with four entry gates out of which only two gates are opened today. For safety, it is surrounded by a 9m wide and 10m deep moat and imposing 22m high inner walls.
Important features of Red Fort of Agra
Jehangir Mahal: Situated at the entry gate of Amar Singh, the mahal was originally built as women's quarters by Akbar. It has a large bowl carved out of a single stone. This bowl has ornamental Persian verses written on it.
Khaas Mahal: Considered to be "Aramgah" of the emperor, it has distinctive Islamic-Persian features well blended with Hindu features like chhatris. Also, it features painting on a white marble surface.
Musamman Burj: Build by Shah Jahan, it is a beautiful octagonal tower that features an open pavilion. It is where Shah Jahan spent his last days lying in the open elevation and staring at the Taj Mahal.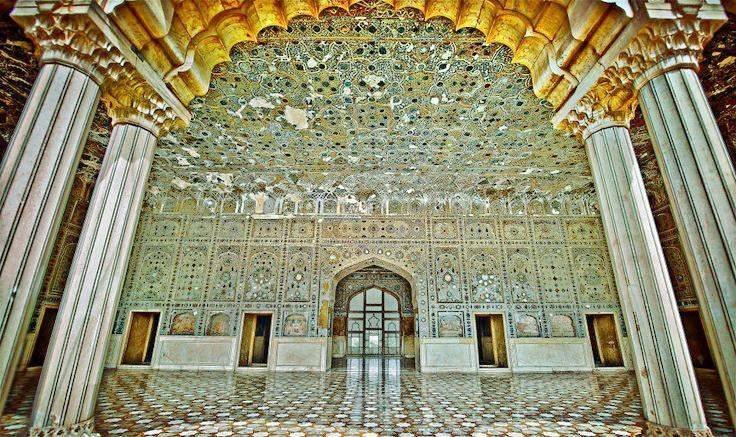 Sheesh Mahal: Also known as Glass Palace, it is considered to be the dressing room of the royal family. Also, it is a perfect specimen of decorative water engineering in hammams and a good example of glass-mosaic decoration.
Diwan-E-Am: It is the place for common people who can see emperor sitting on his famous Peacock Throne that Shah Jahan took to Red Fort in Delhi when the capital was shifted to Delhi.…